Dear Reader, in this issue of the HD Pro Guide eNewsletter, we take a look at Cannes films shot on Blackmagic film cameras. Also, congratulations to the winners and nominees of the Guild of Television Cameramen's 42nd annual awards. Camera news bytes include Panasonic's PX5000G, PX270, VariCam 35 and VariCam HS, as well as Canon's C300 Mark II, XC10, and 5D Mark III. Don't forget to RSVP for new Panasonic camera workshops, educational sessions and hands-on demos.
---
Congratulations to Cannes Films Shot on Blackmagic Design Digital Film Cameras and Completed with DaVinci Resolve

Some of the most anticipated movies competing for the Palme d'Or at the festival, including "Macbeth", starring Michael Fassbender and Marion Cotillard, and "The Lobster", the English language debut of Greek director Yorgos Lanthimos, were color graded using DaVinci Resolve. Special screenings at the renowned film festival will also include the premiere of "Mad Max: Fury Road," which features scenes using the Blackmagic Cinema Camera, as well as the directorial debut of Natalie Portman's, "A Tale of Love and Darkness", lensed by cinematographer Slawomir Idziak, who also shot with the Blackmagic Pocket Cinema Camera.
[Read more]

---
Guild of Television Cameramen Announces GTC Awards 2015 Winners

The Guild of Television Cameramen's 42nd annual awards presentations were held on Sunday May 18 at The Great Barn in Upper Aynho, Oxfordshire. The awards were presented by Stuart McDonald, one of the UK's premiere live and event television directors. The GTC's prestigious TiCA was presented to Martin Hawkins. He started his career in the Post Room at London Weekend Television, on London's South Bank way back in 1974 but did not deliver letters for long. 18 months later he had made the move to the camera department.
[Read more]

---
NBCUniversal News Group Purchases Panasonic AVC-ULTRA Camcorders for Worldwide News Operations
As part of its longstanding relationship with Panasonic, NBC News assisted Panasonic in the development of the feature set of the PX5000G and its next generation of ENG cameras. "The design and functionality of the PX5000G makes it well equipped for today's fast-paced and competitive news business," says Leonard Venezia, NBCUniversal Vice-President of Field Operations and Engineering. "The camera weighs a mere 7.5lbs, uses CMOS sensors, has very low power consumption (29W), great sensitivity and S/N. We used the camera for a Telemundo production, La Voz, and the production team was impressed with the quality of the picture. We also value the microP2 media for its reasonable price, durability and speed."
[Read more]

---
C300 Mark II Camera and XC10 Camcorder Capture Short Films "Trick Shot" And "Battle Of The Ages" in 4K

"Trick Shot," directed by Evan Kaufmann with cinematography by Gale Tattersall (Grace and Frankie, House M.D.), is a classic con movie with a twist. Reformed pool shark "Eight Ball" Bobby is forced to play one more crucial billiards game to save his son Devon, who got mixed up in the wrong crowd. Shot on location in Nevada, Tattersall utilized the EOS C300 Mark II camera to capture the menacing darkness of a seedy pool hall, the stark beauty of the barren desert, and the tense drama of a clever heist film.
[Read more]

---
Canon EOS C300 Digital Cinema Cameras, EOS 5D Mark III Digital SLR Cameras, and an Array of EF Series Lenses Go Undercover to Tell the Story of Crocodile Gennadiy

Amid the civil unrest in eastern Ukraine, pastor Gennadiy Mokhnenko struggles to operate "Pilgrim," his children's rehabilitation center for drug-addicted orphans rescued from the streets of the city of Mariupal. Director Steve Hoover, producer Danny Yourd, and DP John Pope have documented his efforts in their forthcoming film, "Crocodile Gennadiy," relying on highly mobile cameras and versatile lenses to not only capture cinematic, creative images but also to maintain a low profile in dangerous areas. The team achieved their goals by using a combination of two EOS C300 Digital Cinema cameras, one EOS 5D Mark III Digital SLR camera, and multiple EF-series lenses.
[Read more]


---
Stop by the HD Pro Guide Magazine Booth #S108 at Cine Gear Expo 2015

Don't forget to register online to attend the 2015 Cine Gear Expo in Los Angeles. Make sure to stop by the HD Pro Guide Magazine Booth # S108 and hello. Held at Paramount Studios in Hollywood, CA, the tradeshow takes place June 4 through June 7. Bring your business cards for networking, and pick up complimentary print editions of HD Pro Guide Magazine, and our sister publication, StudentFilmmakers Magazine. You can also signup for complimentary subscriptions at our booth.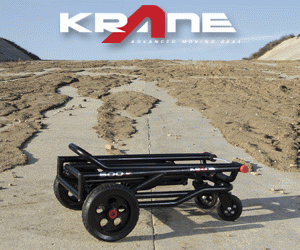 ---
Register Online Now for Panasonic Workshops, Educational Sessions, and Hands-On Demos

Los Angeles, Chicago, New York City, Atlanta, Dallas


On Day 1, you'll learn about the new 4K and HD handheld, shoulder-mount and PTZ cameras, and new cloud-based production solutions. On Day 2, you're invited to a workshop on shooting with the new VariCam 35 4K 35mm and VariCam HS high-speed 1080p 2/3-inch camera/recorders. This all-day workshop will discuss the extensive capabilities and end-to-end workflow flexibility of the VariCam 35 and VariCam HS cameras. Panasonic will serve lunch at the events.
[ RSVP Today ]


---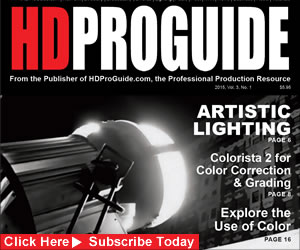 ---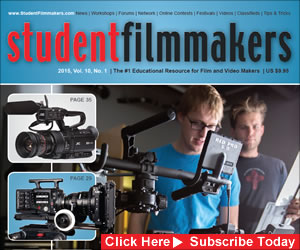 ---
June 2015
Cine Gear Expo: June 4-7, Los Angeles
www.cinegearexpo.com

Cine Video Expo: June 15-19, Mexico
www.revistapantalla.com/expo

August 2015
2015 UFVA Conference: August 4-8, Washington, DC
ufva2015.com

Siggraph 2015: August 9-13, Los Angeles
s2015.siggraph.org

September 2015
IBC 2015: September 10-15, Amsterdam
www.ibc.org

October 2015
PhotoPlus Expo 2015: October 21-24, New York City
www.photoplusexpo.com

December 2015
GV Expo 2015: December 1-3, Washington, DC
www.gvexpo.com


---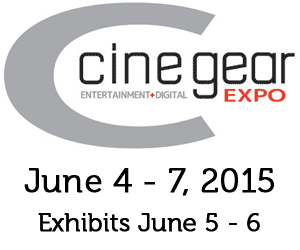 ---


MAGAZINE ADVERTISING CONTACTS

For advertising and sponsorship opportunities, contact your magazine representative today.

Kim Edward Welch, (917) 743.8381
Email:

[email protected]


Publisher / Sales

Jody Michelle Solis, (646) 509.3160
Email:

[email protected]


Editor-in-Chief / Specialty Sales

Edmund Olszewski, (214) 468.9030
Email:

[email protected]


Marketing / Sales

Beth Rodriguez, (214) 468.8446
Email:

[email protected]


Classifieds / Directory